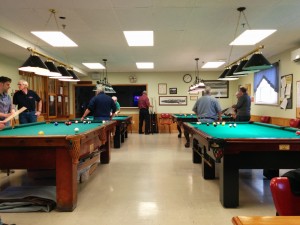 Monday afternoon random draw scotch doubles pool league - Play begins at 12:00.
Tuesday evening random draw scotch doubles pool league - Play begins at 19:00.
Wednesday afternoon singles pool league - Play begins at 12:30.
Thursday afternoon retired teachers league - Play begins at 13:00.
Weekly leagues at the Bridgewater legion are open to everyone (except the teachers league) 19 years and older. Non-legion members are encouraged to join the legion if they will be playing more than 3 times. The benefits of joining the legion are described in Sports Leagues and Games, Appendix A, which is available at the legion.
We will also be hosting sporadic tournaments whenever possible, so check the boards at the legion, this website, or follow us on Facebook to get all the updates and to see upcoming events.
Bridgewater has had the honor of hosting the Legion Provincial Tournament for the past 3 years. The level of play is always really quite remarkable and anyone wishing to represent the Bridgewater Legion and have the opportunity to travel to the National Tournament can find all the information at the branch, or come see us play and join in and we can give you all the information first hand. This year's tournament was again a huge success, with teams from Iqaluit, Kingston, Middleton, Dartmouth and Bridgewater. Dartmouth won and will be representing NS/NU Command at this year's Nationals in Saskatchewan. We wish them all the best and will be rooting for them!
Come out and have a game but be careful, it's addictive!